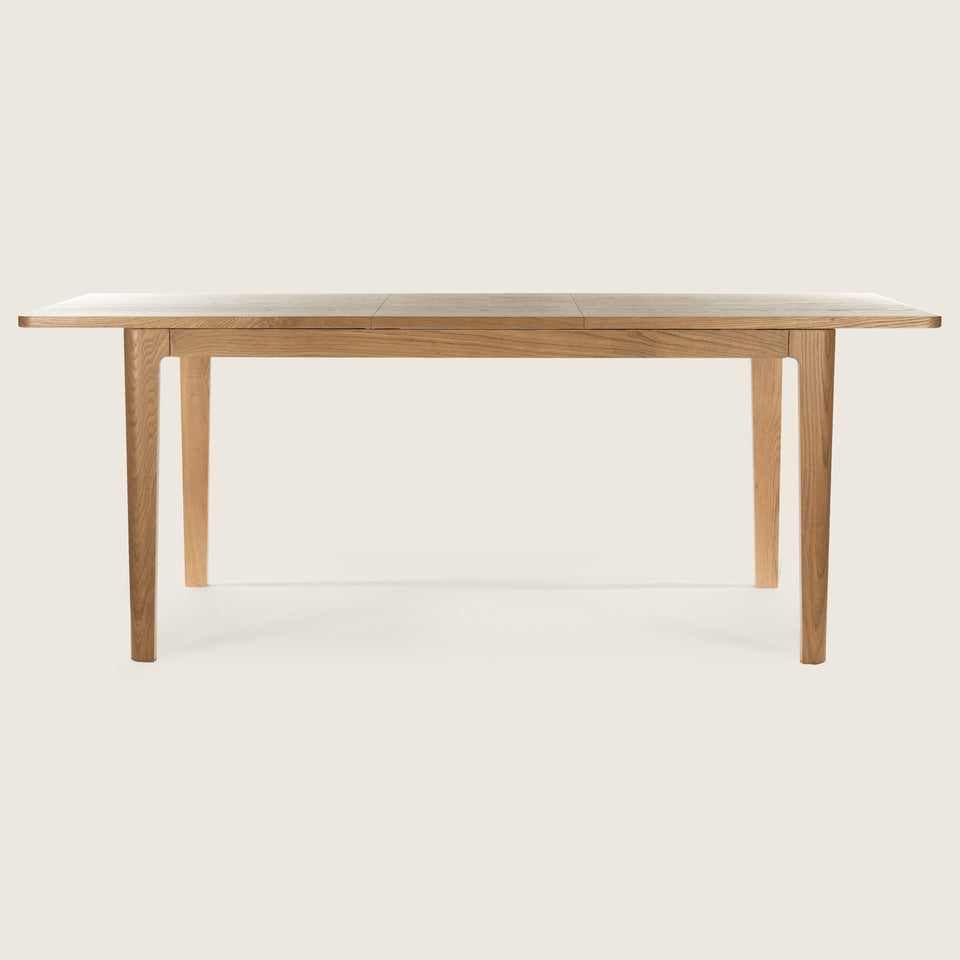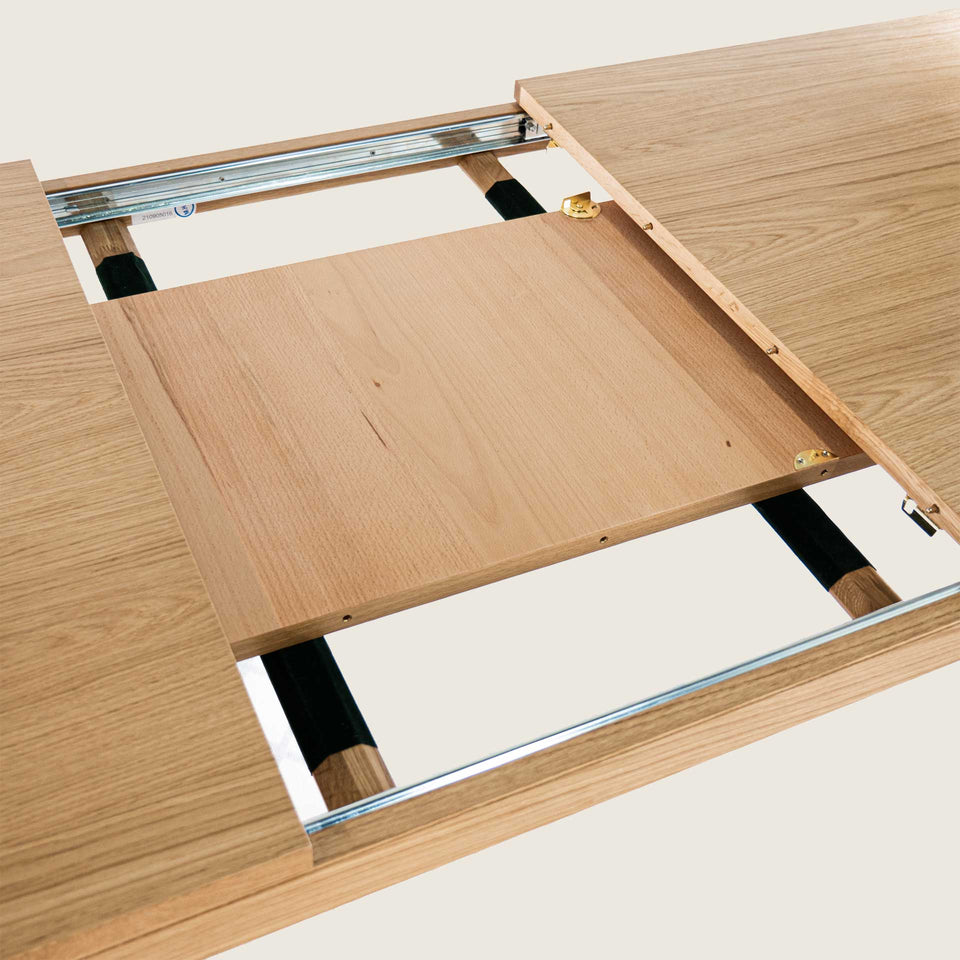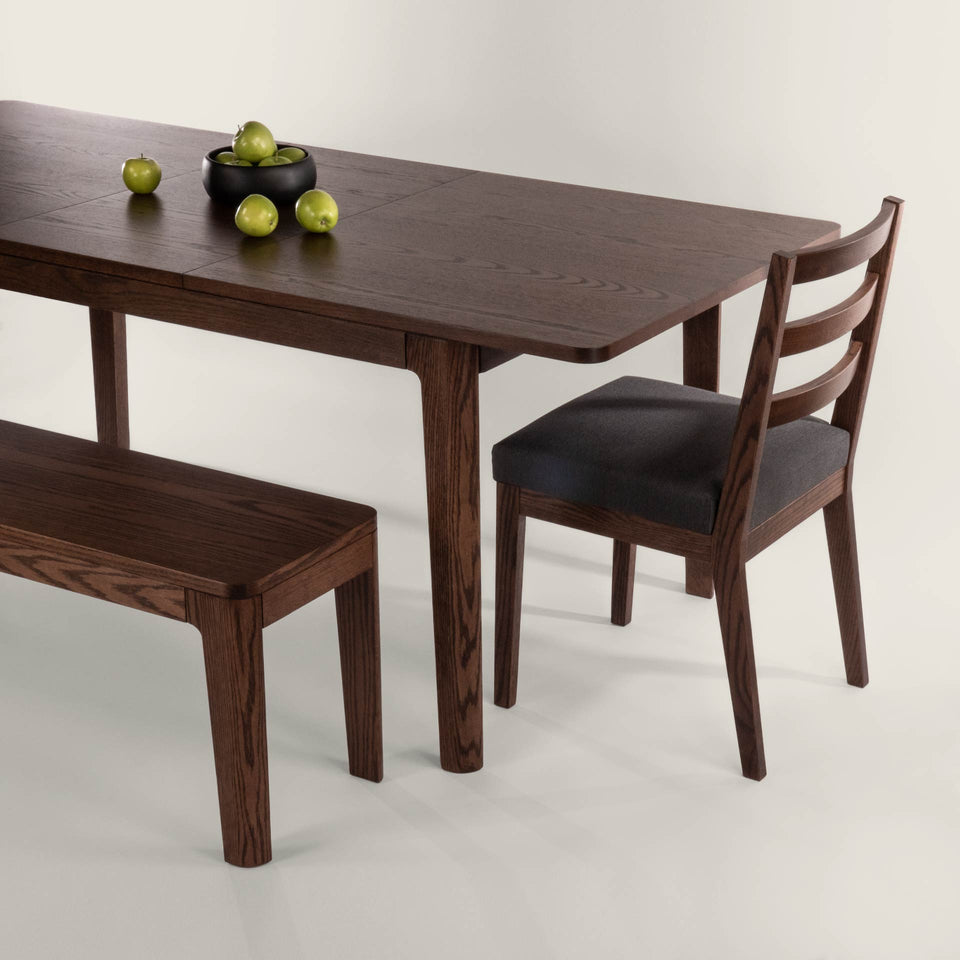 Perle Table
46112102-01
by Moss Design
Contemporary dining table with a minimalistic design and a sleek form. The Perle table makes the perfect dining table for sharing warm evenings with your loved ones. It pairs seamlessly with the matching Perle bench that is designed to fit under the Perle table when not in use. 

The Perle comes in two versions: the standard Perle table (Non-Extendable) for 6 seats as well as an extendable version that can expand to accommodate up to 8 people. Both Perle tables are available in light oak and dark oak choices. 
Dimensions:
Perle Non-Extendable: W 60" x  D 34" x H 29.6"
Perle Extendable: W 60" (W 77.7" when extended) x  D 34" x H 29.6"
Perle Bench: W 53" x  D 13.8" x H 18"
Click here for more about dimensions.
SHIPPING
We ship free with UPS from our Colorado warehouse. See complete Shipping Policy. 
DETAILS

Made in Turkey at our FSC certified factory.
We apply most durable wood stain water based clear matte acrylic lacquer finish.
We use chain of custody, US sourced sustainable solid and engineered hardwood.
How we build this product; Our Perle Table is a stunning piece of furniture that's been crafted with sustainability in mind. The legs, aprons, and all the structural parts are made from solid oak. The top panel is also made from oak, with a solid edge lipping all around while its core section is made from a sustainable engineered wood that's been finished with real oak veneer using high-end manufacturing techniques. The result is a beautiful, sophisticated design that's built to last. We're proud to say that our Perle Table is made in our state-of-the-art factory, where we adhere to the highest standards to ensure the table's durability and integrity.
No maintenance required. Surface should be dusted with a dry cloth. Spillages should be wiped up as soon as possible.
For seating options click here.

Box Dimensions: 66 x 41 x 7 in
Box Weight (Extendable): 116 lb
Box Weight (Non-extendable): 92 lb
Flat box.
ASSEMBLY

Perle Table requires light assembly. 
We designed this product to reduce the assembly process for our customers' convenience. Average assembly time is 15 minutes.
ASSEMBLY INSTRUCTIONS